This list contains a description for each anime we show weekly during the 2019 Spring Semester.
We also show several random first episodes to start each meeting, so be sure to stop by and catch all our showings!
---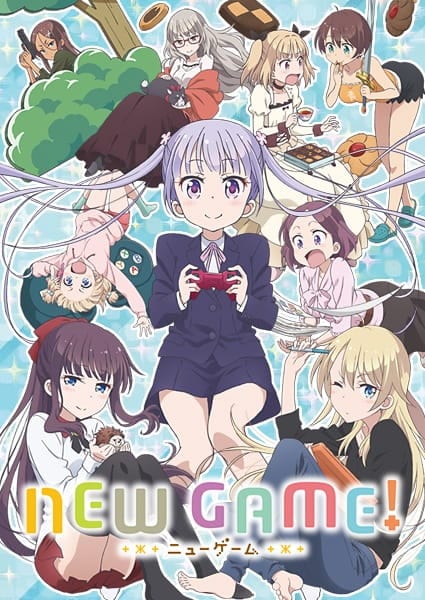 New Game!
Since childhood, Aoba Suzukaze has loved the Fairies Story game series, particularly the character designs. So when she graduates from high school, it is no surprise that she applies to work at Eagle Jump, the company responsible for making her favorite video game. On her first day, she is excited to learn that she will be working on a new installment to the series: Fairies Story 3—and even more so under Kou Yagami, the lead character designer.
In their department are people who share the same passion for games. There is Yun Iijima, whose specialty is designing monsters; the shy Hifumi Takimoto, who prefers to communicate through instant messaging; Hajime Shinoda, an animation team member with an impressive figurine collection; Rin Tooyama, the orderly art director; Shizuku Hazuki, the game director who brings her cat to work; and Umiko Ahagon, the short-tempered head programmer.
New Game! follows Aoba and the others on their adventure through the ups and downs of game making, from making the perfect character design to fixing all the errors that will inevitably accumulate in the process.
Shinsekai Yori
Following a sudden outbreak of psychokinesis in 0.1% of the population, a rapid transformation swept the world. The godlike ability to manipulate matter remotely turned many power wielders to violence, inciting a long period of upheaval. Finally, after a chaotic era shaped by the rise and fall of oppressive regimes, the psychic humans were able to achieve a fragile peace by isolating their society, creating a new world bound by complex rules.
In the town of Kamisu 66, 12-year-old Saki Watanabe has just awakened to her powers and is relieved to rejoin her friends—the mischievous Satoru Asahina, the shy Mamoru Itou, the cheerful Maria Akizuki, and Shun Aonuma, a mysterious boy whom Saki admires—at Sage Academy, a special school for psychics. However, unease looms as Saki begins to question the fate of those unable to awaken to their powers, and the children begin to get involved with secretive matters such as the rumored Tainted Cats said to abduct children.
Shinsekai yori tells the unique coming-of-age story of Saki and her friends as they journey to grow into their roles in the supposed utopia. Accepting these roles, however, might not come easy when faced with the dark and shocking truths of society, and the impending havoc born from the new world.